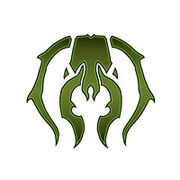 The Golgari Swarm is a black-green aligned guild from the
plane
of Ravnica. The Golgari Swarm was founded by parun
Svogthir
, a human necromancer turned lich to function as the agricultural sector of Ravnican society.
Before Ravnica Block
Edit
The Golgari Swarm was started as an army of elves and outcasts that Svogthir had united as well as legions of undead he himself raised. In the war between the guilds before the signing of the Guildpact Svogthir fought in the name of chaos but the war soon turned into a standstill. It was at this time that Szadek proposed the Guildpact and Svogthir convinced the paruns to come together and form the Guildpact.

Less than a millennium before the Decamillenial the Sisters of Stone Death, a quintet of gorgon sisters, attempted to overthrow Svogthir and claim the title of Guildmaster. Though he managed to kill two of the sisters the remaining three sisters managed to rot away his body and seal his head away in Svogthos.


Ravnica Block
Edit
At the time of the Decamillenial Savra allied with Szadek, the Guildmaster of House Dimir, who helped her free Svogthir and build him a new body. Svogthir quickly killed two of the three remaining sisters before exiling the third. Savra turned against Svogthir after the battle, unsummoned his body and consumed his essence.

Savra proclaimed herself the Guildmaster of the Golgari and attempted to infiltrate the Selesnya Conclave to subtly seize control of the guild. She was double crossed by Szadek who snapped her neck to weaken the guild. Svogthir's spirit possessed Savra's body and he made an alliance with the Simic Combine Guildmaster Momir Vig to wipe Ravnica clean through Experiment Kraj. This however failed when Agrus Kos overpowered Svogthir's mind and used Savra's body to kill Vig causing Experiment Kraj to go berserk and destroy Vig's lab along with Savra's body.

After Szadek's defeat Savra's brother Jarad rose to the rank of Guildmaster of the Golgari Swarm. Jarad's son Myc was taken prisoner by Izolda who needed the blood of the Guildmaster to perform a ritual to control Rakdos and as a result become the Rakdos Guildmaster. When Jarad attempted to rescue his son from Izolda she killed him and using Jarad's blood completed the ritual and took control of Rakdos.

Jarad was able to rise after his death as a lich and continued to serve as the Golgari Guildmaster.

The task that the Guildpact assigns to the Golgari is to provide free food to Ravnica's poor. This food is often only consumed as a last resort due to the widespread knowledge on how the food is grown.
Structure
Edit
The Golgari guild is organized more like a single organism than a collective: it has a nucleus or nerve center that drives the direction and growth of the guild; elements that collect nutrients and convert them into usable resources; defenses that resist and fight off foreign bodies; and an instinctual drive to survive, reproduce, and overcome.

The Golgari Swarm is divided into factions each vying for control of the Swarm. The most prominent of the factions are:

Teratogens, the ruling faction of the Golgari up until the Decamillenial. This faction is composed of almost entirely of non-humanoid species such as plants, mutants, harpies, nagas, griffins, centaurs and gorgons.

Devkarin, the current ruling faction of the Golgari. This faction is composed of a brooding and ambitious race of elves that are presided over by a high priestess known as matka.

Loleth, the irregular faction of Golgari undead, necromancers, fungus-binders and other members associated with the restless dead.

The Parun of the Golgari Swarm was the Lich Lord Svogthir.

Guildmaster
Edit
Throughout most of the history of the Guildpact the Guildmaster of the Golgari Swarm was Svogthir. It was not until the Decamillenial neared that the position of Guildmaster was truly contested when the Sisters of Stone Death overthrew Svogthir. A millennia later during the Decamillenial Savra brought Svogthir out of exile and used him to depose the Sisters of Stone Death before double crossing Svogthir and claiming the position for herself. Not long afterwards Szadek double crossed Savra and killed her.

After the death of Savra at the hands of Szadek her brother, Jarad rose to the rank of Guildmaster which he still holds.

Guildhall
Edit
Svogthos, the Restless Tomb
The Golgari Guildhall was Svogthos during the Ravnica block. Once a dilapidated and abandoned Orzhov Cathedral that, up until the Decamillenial, was the prison of the Golgari parun Svogthir. While he was imprisoned within Svogthos Svogthir's magic turned the Guildhall into a quasi-living creature which can move.

Korozda, the Maze of Decay
The current Golgari Guildhall is Korozda, an arched cathedral surrounded by an immense, circular maze of overgrown, fungus encrusted ruins. Korozda is patrolled by an array of swarming vermin, giant insects, zombies, and gleancrawlers.

Guild Signet
Edit
"Depending on your point of view, the seal represents a proud guardian of the natural cycle or one who has sold her soul to darkness for eternal life." - Golgari Signet Flavor Text
Creature Types
Edit
In game the Golgari are composed of many different species and races which include: Beasts, Elementals, Elves, Fungi, Gorgons, Horrors, Humans, Hounds, Imps, Insects, Oozes, Plants, Saprolings, Scorpions, Skeletons, Trolls, Wurms & Zombies


Creature Classes
Edit
Despite covering a wide array of species and races the Golgari compose of only two classes in game and they are: Druids & Shamans


Mechanics
Edit
Ravnica Block Mechanic: Dredge
Conceived by head Magic designer and design team Mark Rosewater, dredge is a static ability that exemplifies the belief that life and death are similar. It allows a player to put a number of cards from the top of his or her library if he or she would draw a card to return a card with dredge to his or her hand. Due to its recursive nature, interactions with cards that deal with the graveyard, and strength as a mechanic, dredge has been featured in numerous competitive decks and has spawned archetypes centering on the mechanic.
Dredge Cards
Dakmor Salvage
Darkblast
Golgari Brownscale
Golgari Grave-Troll
Golgari Thug
Grave-Shell Scarab
Greater Mossdog
Life from the Loam
Moldervine Cloak
Necroplasm
Nightmare Void
Shambling Shell
Stinkweed Imp


Return to Ravnica Block Mechanic: Scavenge
Scavenge is a keyword ability solely featured on creature cards, and represents two static abilities, one of which functions while a creature card is in the graveyard and another while the ability is on the stack. Scavenge represents using the graveyard and dead as a resource. Both black and green are colors with much overlap, sharing two creature keywords (deathtouch and regeneration) and a focus on the graveyard, with respect to recursion, using the graveyard as a resource, abilities that trigger when something dies or is put into a graveyard from play, exiling cards from graveyards, and abilities that are active if a card is in a graveyard.
Scavenge Cards
Deadbridge Goliath
Dreg Mangler
Drudge Beetle
Golgari Decoy
Korozda Monitor
Sewer Shambler
Slitherhead
Sluiceway Scorpion
Terrus Wurm
Zanikev Locust

Ravnica Block
Edit
Golgari Cards
Bloodbond March
Bound//Determined
Crime//Punishment
Darkblast
Dark Heart of the Wood
Drooling Groodion
Elves of Deep Shadow
Gaze of the Gorgon
Gleancrawler
Golgari Brownscale
Golgari Germination
Golgari Grave-Troll
Golgari Guildmage
Golgari Rot Farm
Golgari Rotwurm
Golgari Signet
Golgari Thug
Grave-Shell Scarab
Greater Mossdog
Life from the Loam
Moldervine Cloak
Mortipede
Necroplasm
Nightmare Void
Overgrown Tomb
Plague Boiler
Putrefy
Rolling Spoil
Savra, Queen of the Golgari
Shambling Shell
Sisters of Stone Death
Stinkweed Imp
Svogthos, the Restless Tomb
Vigor Mortis
Vulturous Zombie
Woodwraith Corrupter
Woodwraith Strangler

Referred To
Bloodbond March
Cremate
Drooling Groodion
Elves of Deep Shadow
Golgari Germination
Poisonbelly Ogre
Revenant Patriarch
Streetbreaker Wurm


Return to Ravnica Block
Edit
Golgari Cards
Abrupt Decay
Corpsejack Menace
Deadbridge Goliath
Deathrite Shaman
Dreg Mangler
Drudge Beetle
Golgari Charm
Golgari Decoy
Golgari Guildgate
Golgari Keyrune
Golgari Longlegs
Grisly Salvage
Jarad, Golgari Lich Lord
Jarad's Orders
Korozda Guildmage
Korozda Monitor
Lotleth Troll
Overgrown Tomb
Rights of Reaping
Sewer Shambler
Slitherhead
Sluiceway Scorpion
Terrus Wurm
Treasured Find
Trestle Troll
Zanikev Locust

Referred To
Corpsejack Menace
Deadbridge Goliath
Drudge Beetle
Golgari Guildgate
Grisly Salvage
Mystic Genesis
Rest in Peace
Pages in category "Golgari Swarm"
Ad blocker interference detected!
Wikia is a free-to-use site that makes money from advertising. We have a modified experience for viewers using ad blockers

Wikia is not accessible if you've made further modifications. Remove the custom ad blocker rule(s) and the page will load as expected.